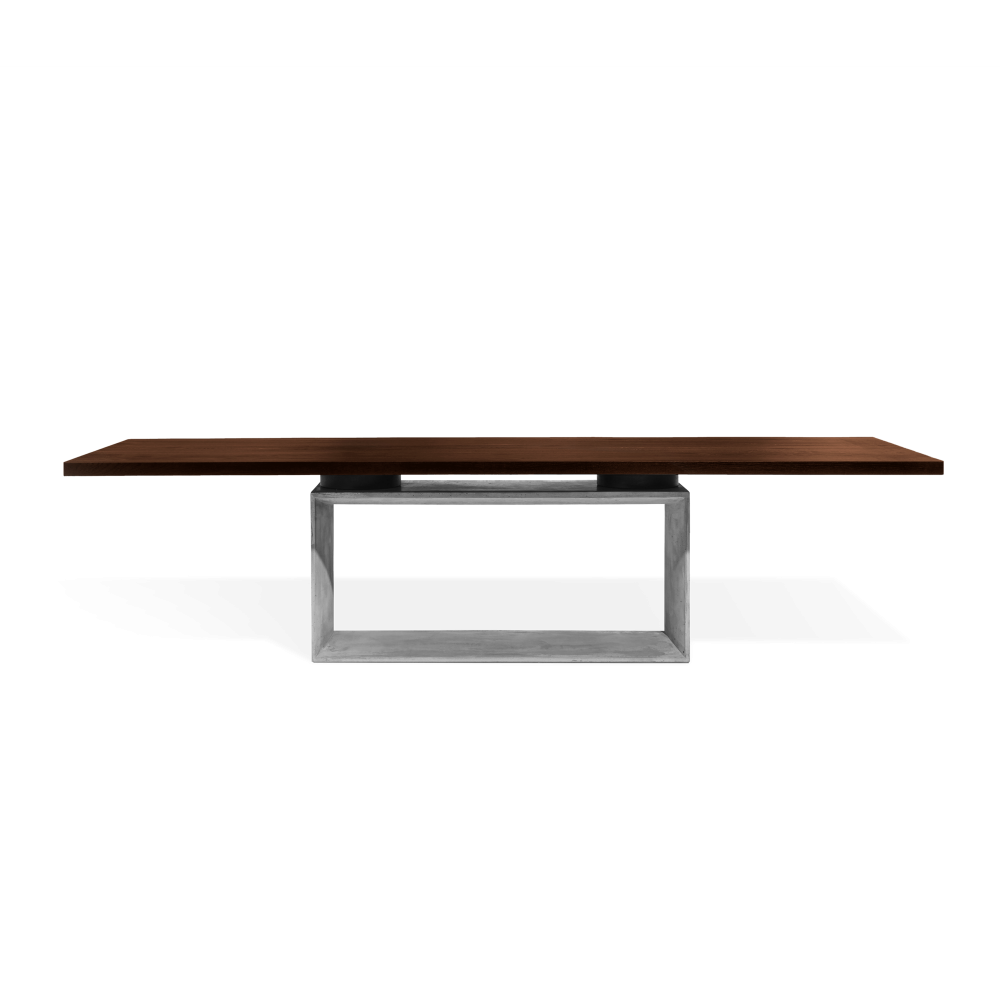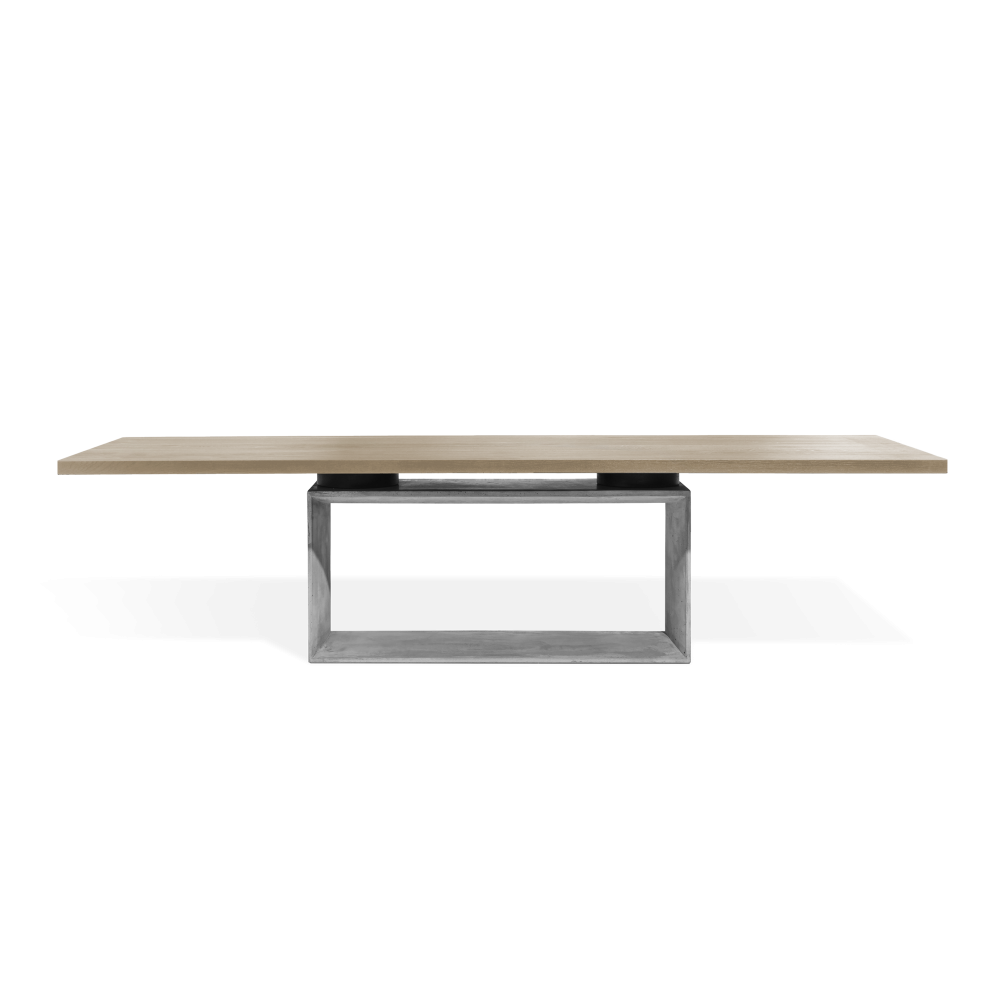 Design
Studio Vertijet
FRAME, expressive concrete | The excitingly dominant FRAME was designed in the Vertijet design studio. The one-piece cast base, which is straight on the outside and convex on the inside, forms an extraordinary geometric frame. The tabletop rests on it seemingly weightlessly.
This virtuoso table is placed in modern architecture, absorbing material. The FRAME cultivates the idea of a long banquet table and is equally suitable as an impressive conference table.
Four tabletop variations appeal to individual tastes. From linear-reduced to urban-lively:
The rustical table top has a surface that is flattering to the hand with a naturally pronounced pattern.
The liveliness of the elegant RohDesign top made of end-grain wood blocks is shown in the lengthwise cut oak cubes with a view of the annual rings. The square blocks are sustainably glued and processed into an expressive table top.
The naturalness of the urban RohDesign tabletop is evident in the traditionally brushed and, if desired, fired, oiled or pigmented surface. Each table edge is fitted with an axe according to traditional craftsmanship.
The historical oak is a table surface with a strong character, shaped by the times. Made from old oak beams of historical half-timbered houses with the charm of the past. The natural characteristics of the darkened historical beams have been worked out by hand and artfully. Bolts, cracks, knotholes and uneven surfaces are deliberate and characteristic.
Detailed information on the FRAME
Table with base 135 x 40 x 60 cm reinforced concrete and table top solid wood. Concrete base is made from one piece. 4 glides adjustable in height underneath the base. Between table top and base are two round wooden plates - finish to table top accordingly. It creates a floating appearance. From a length of 260 cm, a T-profile is inserted centrally underneath the table top for structural reasons to stabilize the table top.
thickness ~4"
height ~74"
~86.6 x 39.4"
~94.5 x 39.4"
~102.4 x 39.4"
~110.2 x 39.4"
~118.1 x 39.4"
In the case of wood, the term "end-grain wood" or "end grain wood" refers to the surfaces cut transversely to the longitudinal axis, which show the annual rings as circles or segments of circles. The liveliness of the elegant, expressive solid wood panel made of 6 cm thick end-grain wood blocks in variable sizes, can be seen in the longitudinally cut oak wood cubes with a view of the annual rings. The square blocks are permanently glued and processed into an expressive end-grain wood panel. This extraordinary tabletop can be made of natural oak or cooled oak.
thickness ~6"
height ~76"
~86.6 x 39.4"
~94.5 x 39.4"
~102.4 x 39.4"
~110.2 x 39.4"
~118.1 x 39.4"
Solid wood table boards denoted "RohDesign" are glued from three planks with pronounced hand-carved wood features. Sapwood is removed, while natural features such as swirls in the wood and visible knot holes are specially emphasised. Dry cracks are very likely to occur here. As an option, further cracking can be countered though the incorporation of a handcrafted dovetail. The width varies from approx. 95 cm to approx. 100 cm. These table tops are unique pieces and cannot be reproduced. It cannot be ruled out that in the event of increased heat flows crack formation will increase. RohDesign tops are always delivered with handcrafted wanes. The following versions are possible:
thickness ~6"
height ~76"
~86.6 x 39.4"
~94.5 x 39.4"
~102.4 x 39.4"
~110.2 x 39.4"
~118.1 x 39.4"