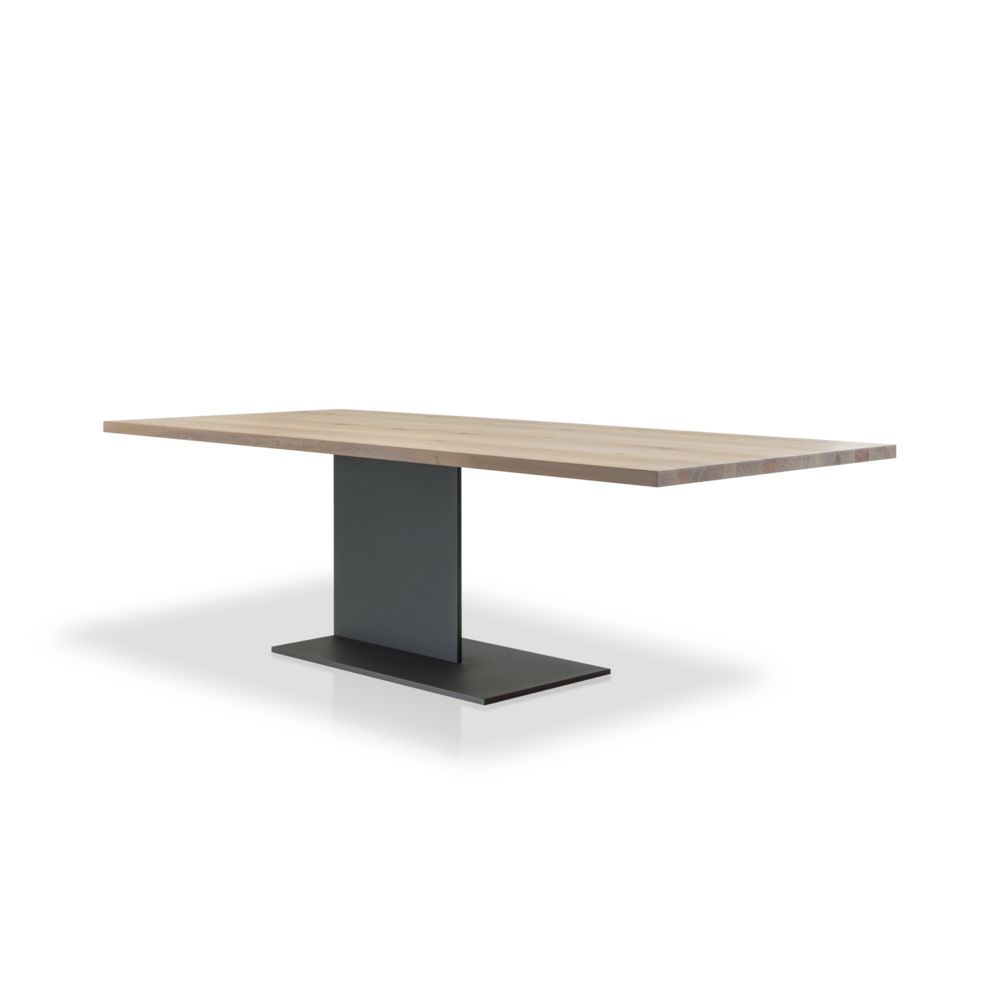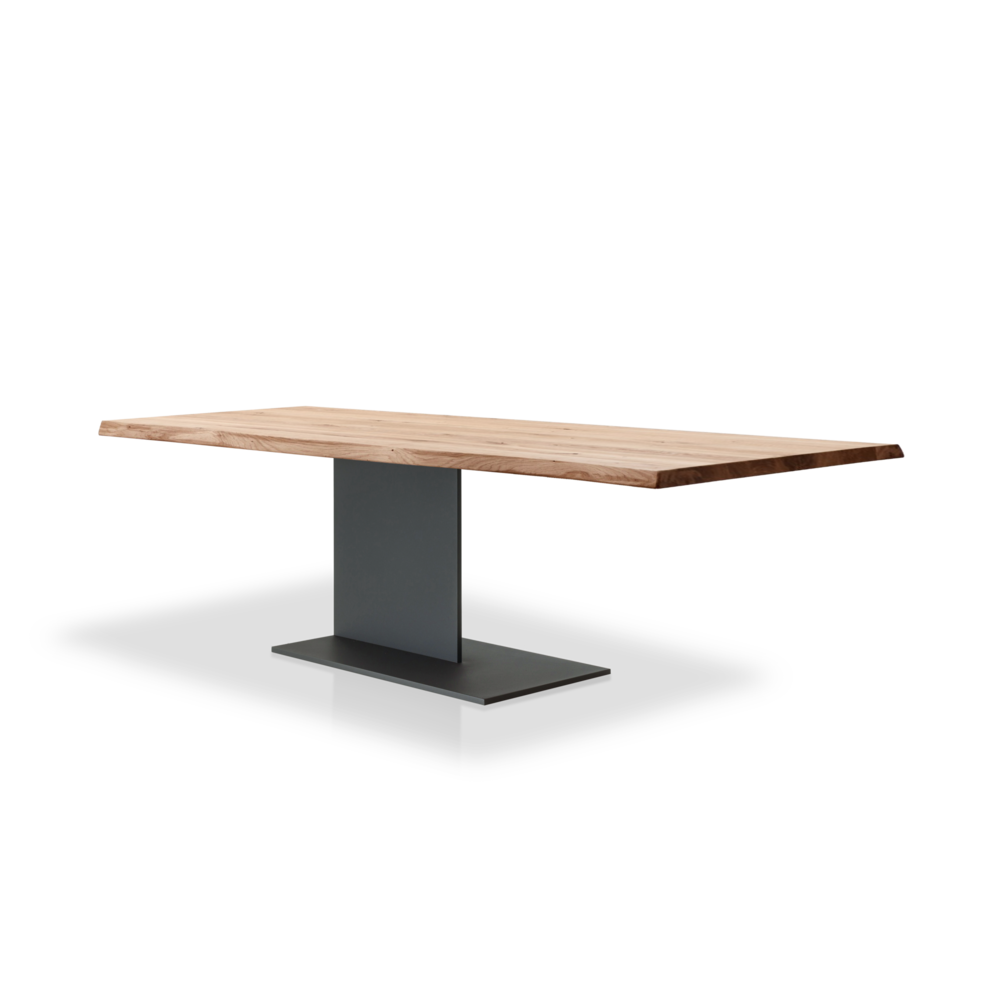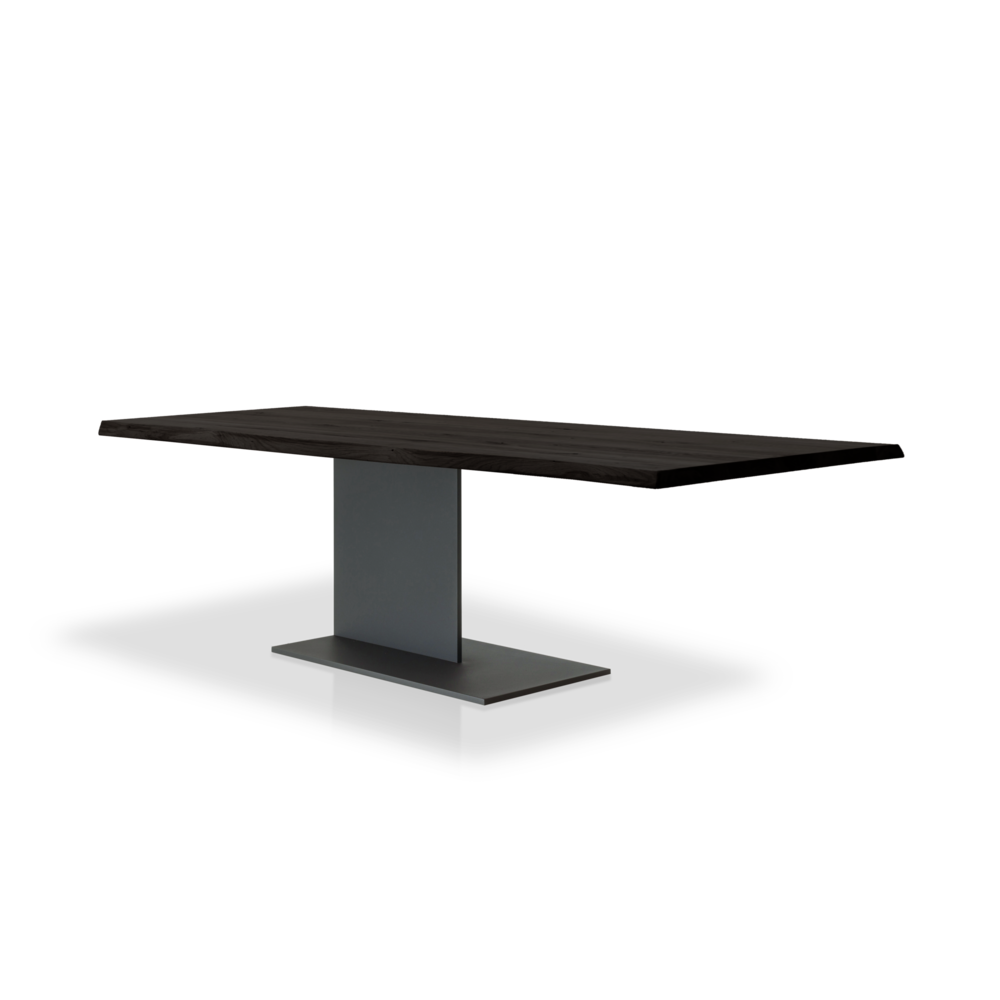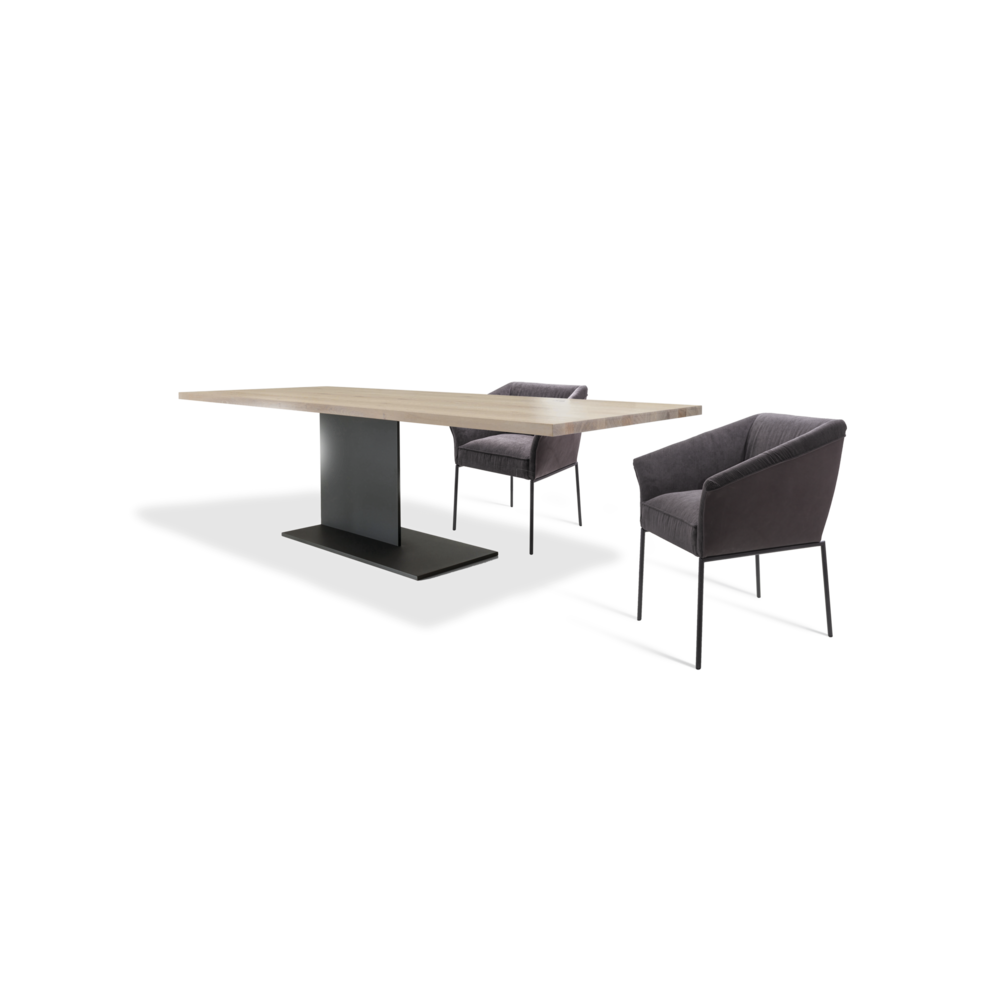 Design
ASCO / Götz Ladendorf
MONO minal, asymmetrical harmony | The asymmetrically positioned, very thin, minimalist steel cheek of the MONO_minal, designed by Götz Ladendorf, determines the purist design of this impressive dining table. The sword is flush and inconspicuously welded to the heavy base plate.
The Mono minal is ideally suited for benches and corner bench solutions and is a high-quality timeless table.
Four table top variations appeal to individual tastes. From linear-reduced to urban-lively:
The rustical table top has a surface that is flattering to the hand with a naturally pronounced pattern.
The liveliness of the elegant RohDesign top made of end-grain wood blocks is shown in the lengthwise cut oak cubes with a view of the annual rings. The square blocks are sustainably glued and processed into an expressive table top.
The naturalness of the urban RohDesign tabletop is evident in the traditionally brushed and, if desired, fired, oiled or pigmented surface. Each table edge is fitted with an axe according to traditional craftsmanship.
The historical oak is a table surface with a strong character, shaped by the times. Made from old oak beams of historical half-timbered houses with the charm of the past. The natural characteristics of the darkened historical beams have been worked out by hand and artfully. Bolts, cracks, knotholes and uneven surfaces are deliberate and characteristic.
Detailed information on the MONO minal
Table with an asymmetrical base in steel powder-coated. Table top in solid wood. Felt glides under base plate.
Table tops denoted as "rustic" have visible natural features such as knots or sapwood. Minor dry cracks cannot be ruled out. Knot holes and dry cracks are filled with a graphite-coloured polyester resin. The grinding is fine. The particularly lively table tops made of historical oak are manufactured from oak beams, which previously braved wind and weather in historic buildings. The normally heavily darkened planks are hand-crafted and are characterized by constructive wood penetrations - for example treenails or crossbars - as well as by cracks, knotholes and a partly uneven surface. Sharp-edged holes or cracks are milled off softly. The following versions are possible:
thickness ~4"
height ~74"
~70.9 x 35.4/39.4"
~78.7 x 35.4/39.4"
~86.6 x 35.4/39.4"
~94.5 x 35.4/39.4"
In the case of wood, the term "end-grain wood" or "end grain wood" refers to the surfaces cut transversely to the longitudinal axis, which show the annual rings as circles or segments of circles. The liveliness of the elegant, expressive solid wood panel made of 6 cm thick end-grain wood blocks in variable sizes, can be seen in the longitudinally cut oak wood cubes with a view of the annual rings. The square blocks are permanently glued and processed into an expressive end-grain wood panel. This extraordinary tabletop can be made of natural oak or cooled oak.
thickness ~6"
height ~76"
~78.7 x 39.4"
~86.6 x 39.4"
~94.5 x 39.4"
Solid wood table boards denoted "RohDesign" are glued from three planks with pronounced hand-carved wood features. Sapwood is removed, while natural features such as swirls in the wood and visible knot holes are specially emphasised. Dry cracks are very likely to occur here. As an option, further cracking can be countered though the incorporation of a handcrafted dovetail. The width varies from approx. 95 cm to approx. 100 cm. These table tops are unique pieces and cannot be reproduced. It cannot be ruled out that in the event of increased heat flows crack formation will increase. RohDesign tops are always delivered with handcrafted wanes. The following versions are possible:
thickness ~6"
height ~76"
~78.7 x 39.4"
~86.6 x 39.4"
~94.5 x 39.4"