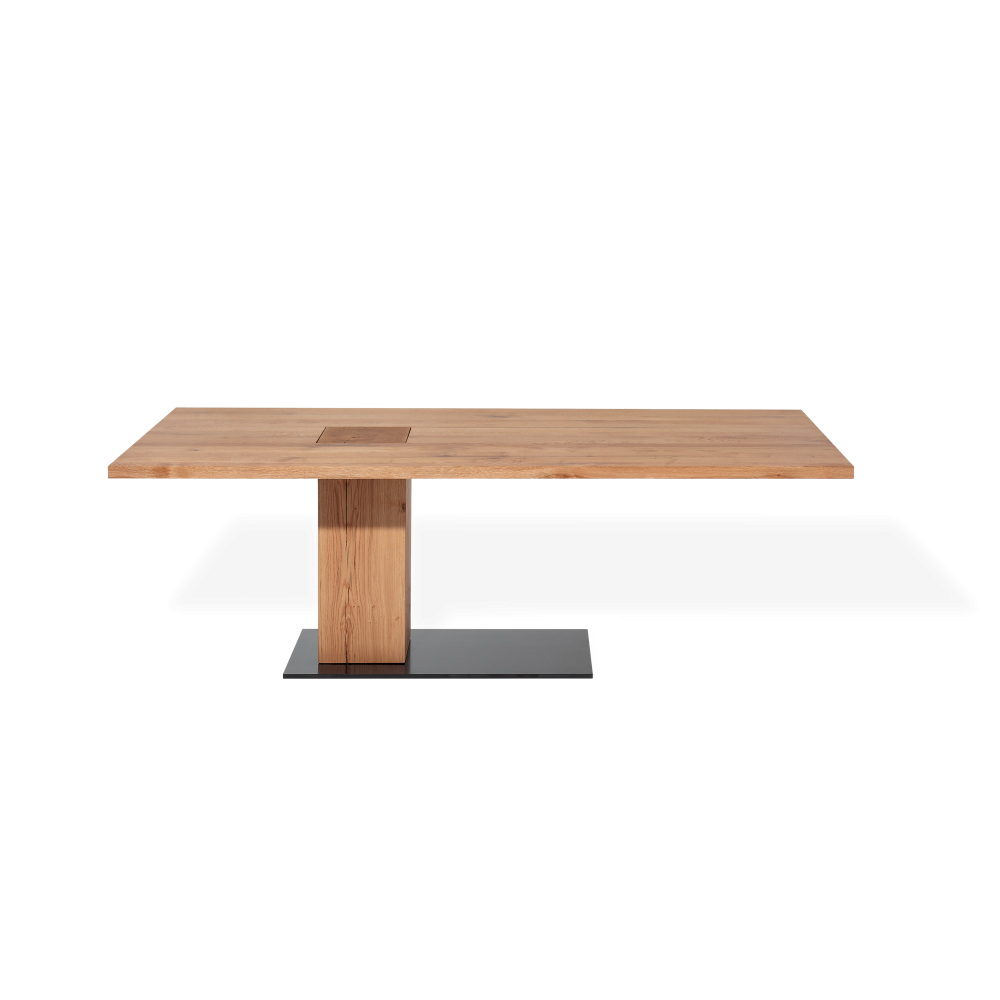 Design
ASCO
MONO, convincing asymmetry | The solid wood foot is cut from a trunk and positioned asymmetrically. In the cut out tabletop, the column shows its lively natural features such as dry cracks and growth rings. The tabletop rustical has a hand-flattering surface with a naturally pronounced pattern. In contrast, the trunk stands on a rectangular base plate made of powder-coated steel or oiled crude steel with deliberately visible production traces. A selectable extension board offers the possibility of extending the table in order to extend the table for spontaneous guests. Strong character and honest natural features characterise this impressive dining table.
Detailed information on the MONO
Solid wooden table with an asymmetrical central trunk. The central trunk, cut from a single wooden log may have vary "dry cracks" and shows natural features. Due to varying humidity and temperature the natural process of wood may occur (e.g. positioning of the top). The table top has a cut out showing the front edge of the trunk. Underneath a massive steel construction shoulders the table top. Extensions for the tops are available for the "shorter" side only and will have a different grain. Steel base plate is powder-coated. Optional: base plate crude steel showing visual characteristics. Felt glides under base plate.
Table tops denoted as "rustic" have visible natural features such as knots or sapwood. Minor dry cracks cannot be ruled out. Knot holes and dry cracks are filled with a graphite-coloured polyester resin. The grinding is fine. The following versions are possible:
thickness ~4"
height ~74"
~63 x 35.4/39.4"
~70.9 x 35.4/39.4"
~78.7 x 35.4/39.4"
~86.6 x 35.4/39.4"
~94.5 x 35.4/39.4"
~102.4 x 35.4/39.4"
Further products of the family MONO