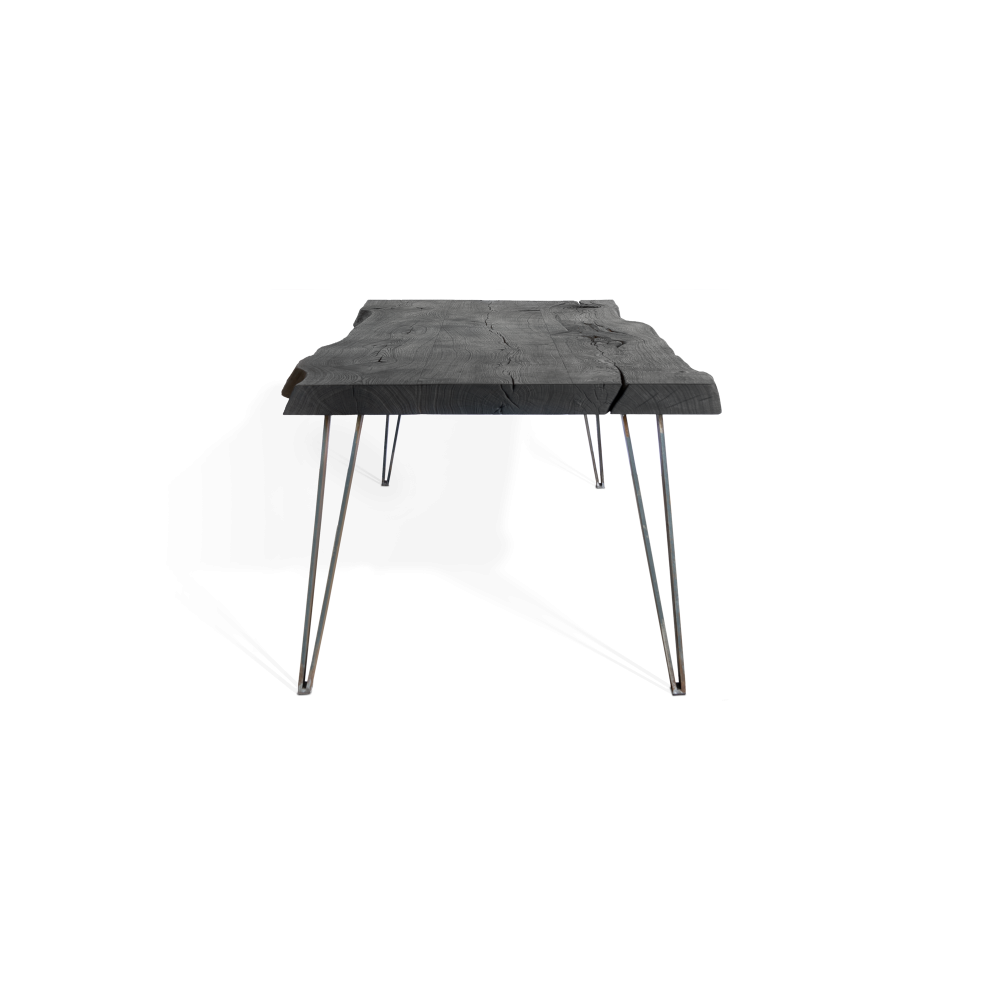 Design
Nick Pyka
NIGHTINGALE, sublime and unique | Brachial and proud like an old castle gate, the NIGHTINGALE dining table presents itself. A statement by the young designer Nick Pyka. The robust solid oak top rests on a conically tapered, open flat steel frame. The interplay of these contrasting natural materials forms an impressive, powerful unit. The NIGHTINGALE positions itself self-confidently in the old building or in modern architecture.
Detailed information on the NIGHTINGALE
Table, consisting of four conical, open and flared flat steel legs. The idea of the RohDesign wooden surfaces is based on the NIGHTINGALE frame. Table top RohDesign in solid wood, glued together from three planks with strongly handcrafted wood characteristics and hand-finished edges.
thickness ~4"
height ~74"
~78.7 x 35.4/39.4"
~86.6 x 35.4/39.4"
~94.5 x 35.4/39.4"
~102.4 x 35.4/39.4"
~110.2 x 35.4/39.4"
~118.1 x 35.4/39.4"
In the case of wood, the term "end-grain wood" or "end grain wood" refers to the surfaces cut transversely to the longitudinal axis, which show the annual rings as circles or segments of circles. The liveliness of the elegant, expressive solid wood panel made of 6 cm thick end-grain wood blocks in variable sizes, can be seen in the longitudinally cut oak wood cubes with a view of the annual rings. The square blocks are permanently glued and processed into an expressive end-grain wood panel. This extraordinary tabletop can be made of natural oak or cooled oak.
thickness ~6"
height ~76"
~78.7 x 39.4"
~86.6 x 39.4"
~94.5 x 39.4"
~102.4 x 39.4"
~110.2 x 39.4"
~118.1 x 39.4"
Solid wood table boards denoted "RohDesign" are glued from three planks with pronounced hand-carved wood features. Sapwood is removed, while natural features such as swirls in the wood and visible knot holes are specially emphasised. Dry cracks are very likely to occur here. As an option, further cracking can be countered though the incorporation of a handcrafted dovetail. The width varies from approx. 95 cm to approx. 100 cm. These table tops are unique pieces and cannot be reproduced. It cannot be ruled out that in the event of increased heat flows crack formation will increase. RohDesign tops are always delivered with handcrafted wanes. The following versions are possible:
thickness ~6"
height ~76"
~78.7 x 39.4"
~86.6 x 39.4"
~94.5 x 39.4"
~102.4 x 39.4"
~110.2 x 39.4"
~118.1 x 39.4"
Further products of the family NIGHTINGALE